Not a favorite for nothing!

37% smoother and softer skin after just one application *

62% more radiant complexion after 12 weeks **

100% visibly cleaner skin after 12 weeks **

77% noticed less visible signs of tired skin around the eyes after 12 weeks ***
Advantage of the application: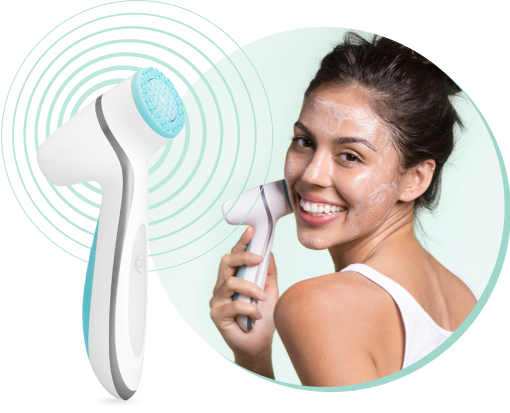 Effectively removes all traces of makeup, dirt, sebum and everyday impurities.
Leaves the complexion radiant
For a clean, fresh feeling
Promotes youthful looking skin
LumiSpa has been clinically proven to make your skin more radiant and not unbalance your natural skin microbiome. * You may be wondering what a natural microbiome is? Your skin is home to a variety of microorganisms that together make up your skin's natural microbiome. They are part of the invisible ecosystem that lives on your skin and makes you feel healthy and refreshed. The invisible natural microbiome of the skin plays an important role in the protection and interaction of your body with the outside world.
* Results of a professional third party assessment based on an in vivo pilot study with 25 participants. The test subjects ranged in age from 19 to 79 years with all skin types. All test persons were asked to clean their skin once with the following combinations: Activating Cleanser for normal to combination skin + normal silicone head; Activating Cleanser for skin prone to blemishes + Gentle Silicone Head; Activating Cleanser for Dry Skin + Normal Silicone Head; Activating Cleanser for Sensitive Skin + Gentle Silicone Head.
The sensitive eye area is the calling card of old age. The effective duo of ageLOC LumiSpa Accent Head & IdealEyes offers the following advantages:
You look fresh and relaxed.
Dark shadows under the eyes are less visible.
The skin is visibly firmer.
Visible signs of tired, stressed skin are reduced.
The eyelids are visibly smoothed and tightened.
Puffy eyes and bags under the eyes are less noticeable.